I love creating and shipping software products, the most popular recent one being Voice in a Can, which brings Alexa to many platforms such as the Apple Watch.
I'm always open to opportunities, and love speaking at conferences
I worked for Evernote, creating their Windows Phone app, their Pebble app and their WearOS app, and I worked on their Android app.
I've recently created and shipped apps for the Xbox, iOS, macOS, Windows, watchOS, Android, WearOS and Tizen (Samsung Galaxy Watches). I'm now a little more focused on the Apple platform.
I started programming on a ZX81, moved to a BBC Model B, then spent a lot of time on VAX/VMS doing C, ADA and C++. I switched to Java in the 1990s, then C#/.NET in the early 2000s, with a focus on Xamarin since 2015. I am now exploring Swift and SwiftUI.
I've worked for companies such as Digital Equipment Corp (DEC), Logica and Evernote. I have my own company, Atadore, through which I release apps, and providing consulting services.
I live near Geneva (actually in Vaud), Switzerland, speak French and English, and have Swiss, Irish and UK citizenship.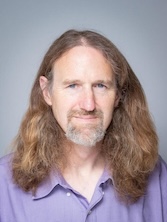 I never had long hair growing up, but in my early fifties I thought why not!