Using the Apple Thunderbolt display with the Dell XPS 13
After many years of buying Mac laptops, I've bought a Dell XPS 13.
One question was how much of my old Apple hardware I could reuse. By buying an Apple USB C charger, I can re-use all the power adapter plugs and extensions I've bought over the years.
The big question for me, however was my Apple Thunderbolt display. One option, which I've not tried, is to buy the Thunderbolt 3 to Thunderbolt 2 adapter, and plug it in directly. I've not found anyone saying that works, and it also consumes the one and only, and thus very precious USB-C/Thunderbolt 3 port.
The solution I've found, which is not for everyone, is to plug the Apple Thunderbolt display into a Mac Mini running Windows 10. Then I enable the "Projecting to this PC" capability on the Mac Mini.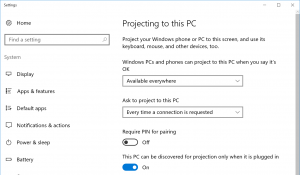 On my XPS 13 I project to the Mac Mini and extend the displays (yes, the Thunderbolt display has a lower resolution than my XPS 13):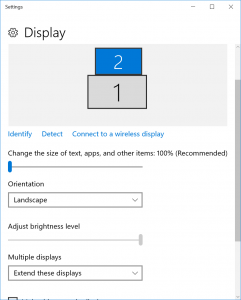 Performance isn't enough for gaming, but its good enough for software development.